$80.00
$184.00
Acrylic Clear Hexagon Table Number with Wooden Base
Have you died and gone to heaven? Nope, just bride brain probably! Gorgeous hexagon acrylic table numbers available in 3 different finishes. 
Height: 5.5 inches tall
Width: 5 inches wide
Customer Reviews
03/03/2020
Michelle K.

Canada
I recommend this product
Very disappointed- black letters have white, red, and green border
I was so excited for these table numbers, and the price was great! (Got them on a Boxing Day sale). When I got my order I noticed a green tinge on the border of some lettering, but was assured when the backing was taken off it wouldn't be noticeable. UNTRUE. Customer service was great, and offered to exchange them, assuring that it wouldn't be a problem again. Just got my second set, and they are also outlined with white/green/red. Customer service has now said that that's just how the "manufacturer is making them" after being instructed not too. Customer service has been helpful, but unfortunately the product is not what it was advertised as.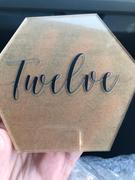 03/04/2020
Florals For Less
Hello M., Thank you for this honest review. We have sold many many other orders of this product (in both colours) with no complaints so it is disappointing that this is the way they are being manufactured now. We would like the record to show we never assured the coloured outlined would not show once the backing was removed and our customer service agent wrote "Yes, there is a brown sticker backing on them all to protect them. Try a few different ones to peel off (some are more stubborn than others) and I'm wondering if that "tinge" will go away when there isn't light reflecting off it." In no way would we ever mislead our customers, particularly on purpose or lie and we are so sorry again that the second set too, did not meet your standards. This review refers only to the black table numbers. Thank you for the kind comments regarding our customer service and look forward to resolving this issue.
01/05/2020
Becky M.

Canada
I recommend this product
Clear hexagon table numbers
Very happy with how they look! So beautiful! Thank you!